The age old stereotype of horrible bridesmaid dresses, captured on-screen in 27 Dresses (a classic), is starting to fade . . . thank goodness. Although there are still brides who choose a uniform look, more and more are allowing their friends and family to choose their own attire, which has led to the mix-and-match bridesmaid dress trend that we love so much. Whether you give your girls a color palette, length, color, design, or pattern to stick to is your choice, but the end result is received best when everyone looks effortlessly put together, yet totally themselves. Below, we've pulled inspiration from recent OTM weddings, where the bride's surrounded by her best gals in great mix-and-match gowns— spoiler alert: blush appears to be the go-to color!
At her Trail Creek Cabin wedding in Sun Valley, Catie Straut's bridesmaids from all over the country wore their own black-tie, floral garden dresses. They chose from Saloni, LoveShackFancy, Zimmermann, Monique Lhuillier, Valentino, Ganni, Needle + Thread, Yumi Kim, and Johanna Ortiz. "Each was unique, but they all came together nicely," the bride says.
What a shot! Emma Cali's bridesmaids all wore different styles in the bride's favorite color, pink, to her tropical wedding in Tulum.
For her destination wedding in Ravello, Callhan Garrett had all her bridesmaids wear shades of cream, white, and ivory to her ceremony.
At Elinor Cowan's wedding in Georgia, her bridesmaids were trusted with picking their own dresses in pastel shades and patterns, and they nailed it!
For her tropical wedding, Julianna Sharkey let her bridesmaids choose their own white dresses, but added a sense of uniformity with their jewelry. "Right before the ceremony, I gifted my girls a pair of Acrilla mismatched pearl earrings by BECK Jewels, which really tied them all together in the simplest way."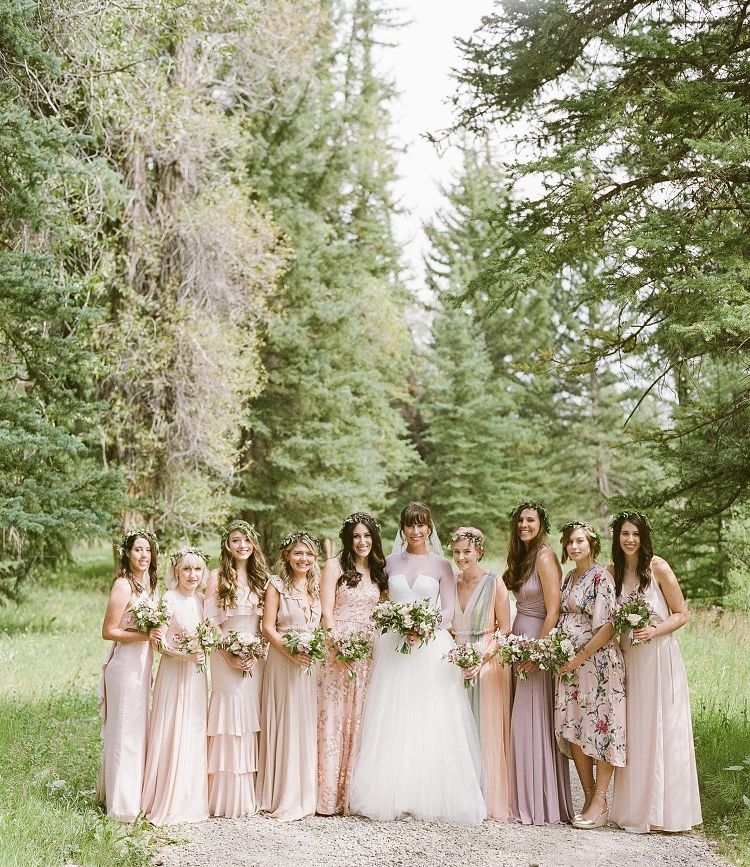 Micky Mantle's granddaughter, Mallory Mantle, let her bridesmaids choose their own dresses for her wedding in Jackson, Wyoming. They ended up complementing each other seamlessly.
In Hawaii, Allison Norton's bridesmaids wore mix-and-match dresses inspired by one floral Ulla Johnson design. The bride worked with her friend Risa of RISTYLE Consulting to hand-select the ten gowns. "It took us nearly nine months to find the rest of the dresses, but the end result was exactly what I had envisioned."
At Molly Kimmel's "Summer camp, but make it fancy" wedding, she gave her bridesmaids the direction of choosing a dress with a floral pattern and they did not disappoint.
For Emerald Finneran's roaring '20s-themed wedding, her bridesmaids wore mix-and-match gowns in a champagne color, and some gowns had shimmering elements too.
Daphne instructed her bridesmaids to choose any long dress of their choosing for her wedding, and most of them surprisingly picked patterned ones!
Kelsey Thompson had her ceremony at Chesterwood in Massachusetts and asked her bridesmaids to attend in blush mix-and-match gowns. She tied their looks together with the same pair of drop earrings.
At Maggie Finder's wedding in Beverly Hills, she asked her bridal party to wear soft colors—her bridesman even wore a cream colored bowtie.
For Morgan Horner's Charleston wedding at The Gibbes Museum, her bridesmaids mix-and-matched Jenny Yoo blush dresses in different fabrics for added dimension.
At Mariana Barreto's Palmetto Bluff wedding, bridesmaids were told to choose "happy colors" when selecting their dresses, and they ended up wearing a perfect mix of florals and solids in pastel shades. "Everything came together, when my sister found an Erdem stunner, a navy embroidered gown with blush lining, and became my something blue," the bride says.
Caroline Christman gave her bridesmaids a color guideline and let them choose their own dresses. "Some were in Reformation, others in Jenny Yoo and BHLDN. They came together so beautifully."
Elizabeth Adams had her bridesmaids all wear mix-and-match dresses in a deep navy color at her wedding in Mexico.
At Something Navy Brand Partnerships Manager Dana Aidekman's wedding, her best girls looked great mix-and-match dresses in the same shade of rose gold.
To Fifi Knott's Bermuda wedding ceremony, bridesmaids wore their own pastel, long dresses and tied their looks together with green vine crowns.
At Sophia Ahl's Cartagena weekend wedding celebration, her bridesmaids coordinated well with muted mix-and-match blush dresses—making for the prettiest group picture.