Saying that the Duchess of Cambridge is beloved for her style would be a royal understatement. Often, clothes she wears are subject to the "Kate Effect" and immediately sell out of stock. Thanks to blogs like What Kate Wore, her #OOTDs are accessible via the quick click of a hyperlink. (You can even purchase "RepliKates" for the more difficult-to-find looks!) And, like any good stylish mother, she shares her fashion sense with her children. George, Charlotte, and Louis are always à la mode in the most dashing brands.
If you've ever wondered where the future Queen Consort of England purchases her children's frocks, wonder no more. Many of the Duchess's childrenswear retailers are e-tailers, meaning you can order from these stores online! Essentially, you can dress your children like Kate's kids—even if you don't live anywhere near Kensington Palace. Prepare to "add to cart."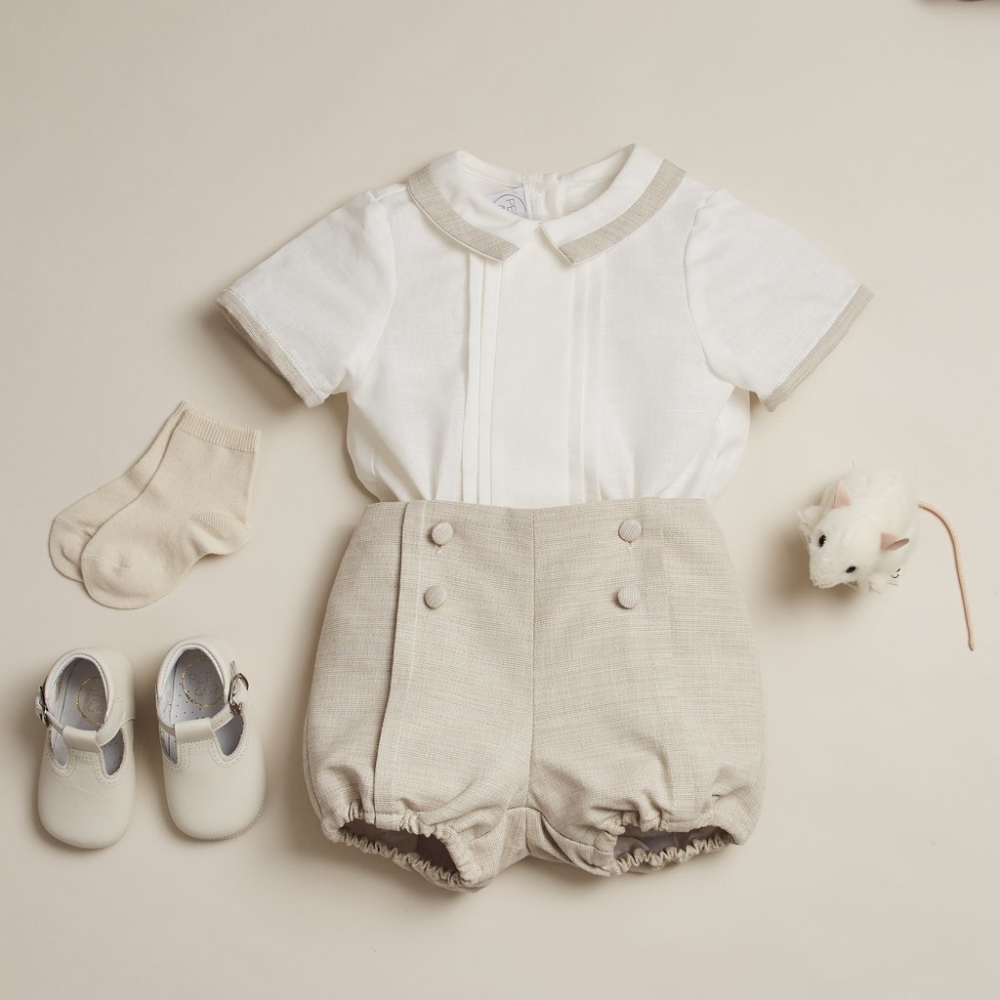 Kate has often dressed her children in these simply precious embroidered clothes. Pepa & Co. is London-based but Spanish-made. Founder Pepa Gonzalez's entire raison d'etre is to provide high-quality, traditional children's clothes that are timeless. From knickerbockers to oh-so-sweet cardigans, Pepa & Co. has outfits for newborns, toddlers, and eight-year-olds. Pippa Middleton is also a fan of Pepa & Co. Her pageboys and bridesmaids (including Prince George and Princess Charlotte!) wore Pepa & Co. at her wedding.
View this post on Instagram
Rachel Riley's clothes are traditional yet contemporary and evoke the aesthetic of yesteryear. People have often remarked how Prince George's Rachel Riley outfits look like something young William could have worn! Designer Rachel Riley says, "The reason why I design clothes that way is because if they wear very simple things, it's about the child, and it's timeless in that you can't really date a specific photo or put them in something that seems out of date." Kate dresses her boys and girl in Rachel Riley for special occasions like christenings and official portraits with the Queen.
As if their French-inspired childrenswear wasn't heartwarming enough, JoJo Maman Bébé is an award-winning company with a wonderful ethos to boot. They have long been manufacturing clothes with recycled plastic, hiring employees with Down Syndrome, and partnering with charity organizations. JoJo Maman Bébé founder Laura Tenison MBE told HELLO! that "At JoJo we make baby and children's clothes which embrace childhood with sweet, fun and above all practical designs, loved by parents and toddlers alike. The Duke and Duchess of Cambridge appear to be sensible parents who realise that the most important thing is for Princess Charlotte and Prince George is to be comfortable." They even have maternity clothes for expecting mamans. Kate wore a JoJo Maman Bébé coat while visiting the Downton Abbey set and wore the coat again several years later in Oxford. If Kate wears something more than once, then you know it's special!
Kate has been a longtime fan of Amaia. Designer Amaia Arrieta said that "The first time she came into the shop [Kate Middleton] was with her mother [Carole Middleton]. It was quite funny because she said, 'I've just had a baby and I'm a little lost. Would you be able to help me?' Of course we knew who she was! It surprised us to see how normal and natural she was. We helped her like any new mum and I think she liked that because she's been coming back ever since." Prince George was seen in a navy Amaia cardigan the first time he met Princess Charlotte. Shall we call this shade, "Big Brother Blue?" Amaia was started by two moms, Amaia from Spain and Segolene from France, who Amaia Kids is also a favorite for moms like Pippa Middleton, Victoria Beckham, Kate Hudson, and Claudia Schiffer.
We would be remiss to forget the brand that is responsible for Prince George's bathrobe look from when he met President Obama. Oh, and you can get these robes personalized! Most of the merchandise from My 1st Years is affordable, customizable, and so precious.
Kate's kids trot around in Trotters canvas shoes and jumpers. Trotters is a British family-owned childrenswear company that sells clothes and shoes for children ages 0-12. From her Peter Pan collared dress to her laceless sneakers, Princess Charlotte's birthday portrait was an entirely Trotters look. Similarly, one of Prince Louis's birthday portraits featured his sweet blue dog Trotters sweater. Trotters also has shoes that are available for "boys, girls, and mummy!" Kate even has a pair of Trotters white canvas sneakers, which she wore for a cricket match in Pakistan. It seems like Kate has purchased many pairs of these darling and affordable shoes in different colors and sizes. (Also, the slippers Prince George wore while meeting President Obama were from Trotters!)
John Lewis
Kate has her own collection of John Lewis essentials, and she has extended this appreciation to her children's wardrobes. Charlotte has worn John Lewis from her official portraits to the ski slopes.
Kate chooses quality childrenswear brands that she can fashion her children in many times. The fact that we see so many hand-me-downs in their family means these clothes are well-made. (And, oh, how we love seeing Prince Louis wear his older siblings' clothes!) One of the many interesting things we've noticed from Kate's favorite childrenswear brands is that she is drawn to Spanish labels. (One of our favorite Prince Louis looks was his white and blue La Coqueta ensemble for Prince Charles's 70th birthday photos!) We think this might be because so many of these Spanish brands have timeless, classic style—just like Kate.