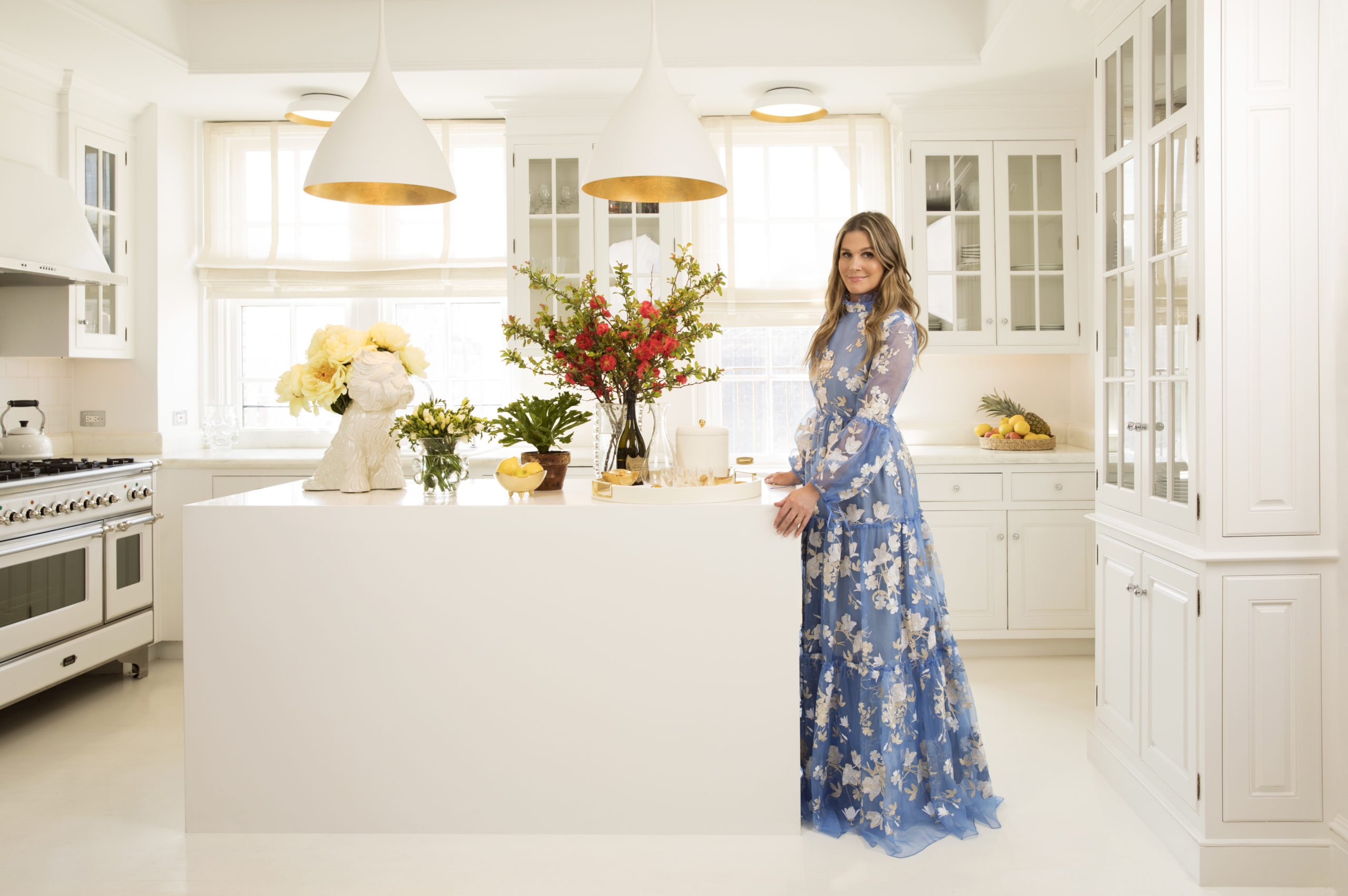 Aerin Lauder, the granddaughter of beauty legend Estée Lauder, worked for her family's business for 20 years before launching her namesake lifestyle brand—and the AERIN fall collection just dropped in our shop! The label's beautiful, effortless, and elegant aesthetic is heaven for anyone registering—from gold picture frames to cocktail pins, to crystal bookends, there's something for everyone. Aerin's own wedding in Wainscott also serves as eternal event planning inspiration and her pieces continue to evoke her brand of Upper East Side classic-ness with a twist.
Now that the launch of our own registry is on the horizon, we knew we had to talk to the founder herself and get her insider's take on what pieces are best for a new home. Below, Aerin shares why you should stay away from trendy items on your registry, makes a case for trays being must-haves, explains why you can never go wrong with neutrals, and much, much more!
What are a few important pieces of advice you've given or received about creating a registry?
"Choose pieces that are classic, timeless, and will help you entertain. A few items that immediately come to mind are beautiful glassware, tabletop dishes, display bowls, and vases for flowers. I recommend staying away from very trendy items. It's best to list pieces that have longevity and will make you happy for years to come."
What are the most important pieces to remember to include?
"A registry should include pieces that are meaningful and functional. I believe that a tray is always a must-have. It's perfect for serving drinks or displaying books on your coffee table. I absolutely love the AERIN Shagreen Trays; I use them daily whether it's for entertaining or as décor."
Do you have any advice on creating a registry when a couple's home aesthetic hasn't been fully formed or when future spouses disagree on a few things?
"You can never go wrong with a neutral color palette. This is one of the many reasons I love all of our cream shagreen items; they look pretty in any setting and with any decorating style. I also think of gold as a beautiful, modern neutral, which is a concept that I learned from my grandmother, Estée. No matter the decorating approach you choose later on, pieces with versatility will fit in seamlessly and elevate the overall aesthetic."
Is there anything you think younger couples often overlook that is always useful later?
"I believe that you can never have too many picture frames. Although they may not seem like a priority, a home that is filled with family photographs and memories feels lived-in, warm, and inviting."
Are there any staple pieces that you wish more people would include?
"There is so much value in entertaining pieces that will be forever useful. I am always welcoming guests into my home, and I am excited to use items that bring a smile to my face. I especially love when I use something that I received as a gift, and it immediately reminds me of someone special."
Aside from the traditional home pieces, what decor pieces would you recommend people add?
"I absolutely love the idea of luxury games like backgammon, poker, tic-tac-toe, dominoes, and mancala. Not only are they great décor pieces, but they're also a fun family activity. It's the perfect gift to receive and something that you may not necessarily think to buy for yourself."
What are some of the home events to keep in mind when curating?
"Couples should identify their own entertaining style and curate their registry around that. To me, there is nothing better than a night at home with family and close friends. I love hosting intimate dinner parties, so I am always searching for entertaining pieces to add to my collection."
What are your must-haves for hosting a big dinner party? A casual family dinner at home?
"A pretty yet versatile tabletop set is essential for a dinner party of any size. Whether it's a casual family dinner or I'm hosting people in my home, I always set the table. I think that attention to detail is so important, and it's something that guests always remember. I like to mix and match vintage items and family heirlooms with newer pieces, especially from the AERIN brand. The Paulette collection is my favorite; it has a timeless aesthetic with a modern, feminine sensibility and works well in any setting. I also think that vases are a must. In my opinion, no party is complete without a ton of fresh flowers."
What is one go-to dish that you love serving for dinner?
"I like to serve classic comfort food that is delicious and easy for everyone to enjoy. Ina Garten's roasted chicken recipe is my favorite, which I love to pair with roasted potatoes and seasonal vegetables."
Are there any home items that you've found are particularly comforting during this strange time?
"The concept of home is more relevant than ever before, and it's so important to feel comfortable and relaxed in your own space. Two home décor items that always make me feel at ease are candles and picture frames filled with wonderful memories. Recently, I have also been loving coffee table books, which have kept me very inspired from home."
Any advice for couples going through the wedding planning process right now?
"Stay positive and remember to still celebrate life's milestones. Although weddings may look a bit different now, there is something so special about a more intimate gathering with family and your closest friends."
Take a look at some of our favorite pieces from Aerin at Over The Moon, and sign up to be the first to know more about our registry!