You may not directly feel it on the day, but if there's one thing that can make or break a wedding, it's the photographer you choose. After all, you can spend a fortune on flowers or a dress, but if they end up being immortalized in over-saturated or cheesy lighting, bad angles, and low-quality edits, all you'll have left to remember them by is a set of unflattering pictures. And trust us, it's heartbreaking to see elevated details captured in a less-than-desirable quality.
We want everyone to be "over the moon" with their wedding pictures—so much so that they consider submitting them to us! In all seriousness, whether you and your fiancé are open books or more private, we're here to help make informed decisions regarding choosing the right vendors for you. We've rounded up a list of some of our very favorite wedding photographers working today. These pros are experts with lighting, know how to get the best candids, and are such joys to work with—the ultimate trifecta. A number of those featured have also shot weddings highlighted on Over The Moon, and all of them are amongst the best names in the business—so, remember to leave plenty of time for booking!
One of the most sought-after wedding photographers out there, Aaron Delesie has captured moments with his camera all over the world. One of our favorite weddings of 2022 was lensed by him, OTM Bride Rainey Lancaster's nuptials in the Lowcountry. He captured every detail and all the joyous energy from the weekend.
This team of female photographers knows that small details can make a big difference in how a client feels about their wedding photos. "The girls that get it, get it," as TikTok says. Founder Abby Jiu started her namesake firm in 2009 and now travels around the world to capture the emotion of couples getting married. Her team memorably lensed OTM Bride Natalie Pace's intimate wedding in Charlottesville in 2020, and it's still top of mind today.
After receiving a Bachelor of Fine Arts with a double major in photography and graphic design at Savannah College of Art and Design in 2010, Adriana Rivera moved to NYC and worked with some of the most talented creatives in the commercial fashion photography industry. Today, Rivera is a leading destination wedding photographer, who splits her time between Latin America, the American coastlines, and the worldwide destinations of her couples' events. OTM Bride Cristina María Álvarez's wedding in Bogota particularly sticks in our mind for its fashion and clean, crisp, elegant photography.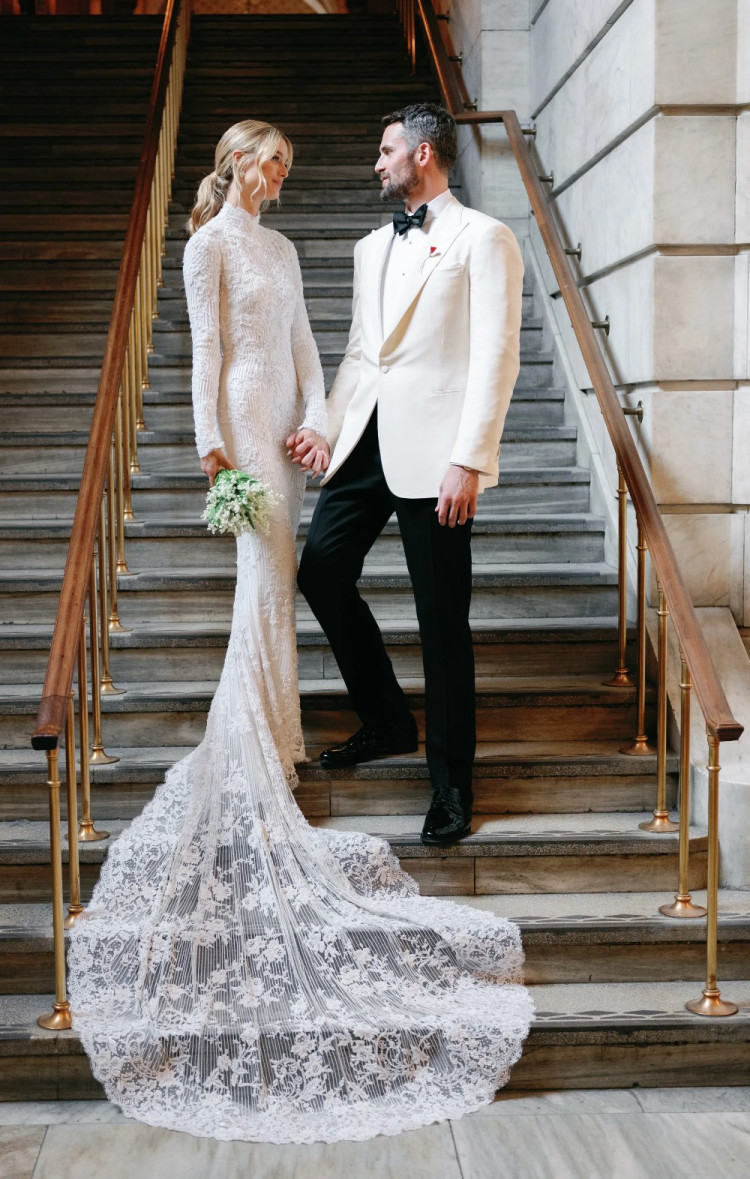 A member of the incredible team behind Serena Williams's fairytale wedding, Zepeda has repeatedly been named one of the best wedding photographers working in the U.S. by a variety of outlets. He has shot everything from small New York City and San Francisco elopements to luxury weddings in exotic locations such as Turkey, Fiji, Italy, and every type of event in-between. More recently, he lensed Kate Bock and Kevin Love's classic New York City wedding. Our first hand experience there with him completely solidified his stellar reputation in our eyes.
Founded by best friends Gina Esposito and Sheena Meekins in 2016, Anée Atelier has a foundation of creative play and utmost excellence. With Meekins's background in publishing for titles such as Teen Vogue, Vogue, People, StyleWatch, and Essence Magazine, and Gina's 20-year career as a seasoned photographer, their combined talents craft an elevated aesthetic of warm, evocative images. Interested in booking the team? While based in NYC, they're avid travelers who specilize in domestic and international destination weddings.
A native of our home base in Charleston, South Carolina, Anne Rhett has been a longtime favorite photographer of OTM. With a background in documentary photography from Duke University, she takes her talents across the globe to shoot weddings but says there's nothing like the Lowcountry setting of the Holy City. Most recently, Rhett lensed OTM Bride Tyler Wright's Valentine's Day-themed nuptials in Virginia.
Since 2004 founders Dorothée and Annabel have specialized in boutique wedding photography, receiving continued praise for their very personal and creative style that is as modern as it is timeless. Whether shooting together or separately, locally or in over 22 countries to date, Belathée always produced crisp, magical-like images. A few of our favorites include Kimmy Scotti's elevated and extravagant Halloween wedding in NYC and Elaine Welteroth's Brooklyn stoop ceremony.
U.K.-based Benjamin Wheeler amazingly shot Princess Beatrice's wedding in the thick of 2020, and the photos are breathtaking. For couples who love the English aesthetic, Wheeler is your man. While he's available for destination weddings, the London civil ceremony images we've seen are flawless—like those from Lorraine Pascale's nuptials and Georgie Le Roux's countryside wedding.
View this post on Instagram
With more than a decade of experience under her belt, Bo Shim moves beautifully between documentary and editorial photography styles. While based in the New York City–area, she's an avid traveler and is available for destination weddings. Her calming demeanor is also a valuable bonus asset, when a bout of nervous butterflies takes off.
Behind the lens at Bennifer's recent nuptials, Calen Rose is sweetly made up of a husband-and-wife team that is based in New York City. Both impressively come from the professional dance world, so you can trust these two know how to move and capture your movements. Travis trained at the Alvin Ailey School and danced professionally with the Lucinda Childs Dance Company, while Kimberly has expertly followed choreography alongside Beyoncé (need we say more?)  and Snoop Dogg. OTM Bride Louise Piyarat Lai's Korean Pyebaek ceremony and reception at Eleven Madison Park was one of our favorite weddings of 2022.
Based in New York City but available to travel for weddings, Chi-Chi Ari is an excellent wedding journalist that draws on her fashion background and love of the arts and nature to capture great photographs. We especially love OTM Bride Candáce Akilah Gregory's wedding in Prospect Park—the veil shots are next-level.
This photographer shot one of our all-time favorite weddings ever and should be the go-to if you're planning a wedding in Mexico. His vibrant, cinematic images are beautiful, and he has an uncanny ability to capture the emotion of the day.
Headquartered in the Flatiron District of New York City, Christian Oth Studio serves both local and international weddings worldwide. The full service photography studio is committed to telling your love story through editorial-style photos of the highest caliber and strives to foster a strong connection with their clients and a gain a true understanding of their vision and goals. We especially love OTM Bride Jacqueline Rooney's colorful Florida nuptials from last spring.
View this post on Instagram
Based in London but available for destination weddings, Cinzia Bruschini has been shooting events for at least 10 years. Led by Bruschini herself, the studio is comprised of photographer Matteo Ciminari and a team of professional artists, each bringing an inquisitive eye and honest approach to their craft. Last year, she lent her talents to our shoot at Jessica McCormack in London with our very own Shayna Seid, and we recently featured OTM Bride Cayley's dreamy multi-day celebration on the Amalfi Coast.
Ghanian born and based in New York, Collins Nai shot Allie Michler and Will Kopelmans's wedding in Nantucket—he also lensed the bride's sister's wedding last year. Most known for portraits and fine art photography, Nai will bring an editorial edge to your wedding photos for an album that could be hung in famous galleries. We've worked with him first-hand, and he is such a fun, refreshing, and professional presence. Also, brides, if you're not used to striking a pose, his direction is a godsend.
View this post on Instagram
Behind one of the lenses at Naomi Biden's recent wedding and at Joe Jonas and Sophie Turner's nuptials in France was the uber-talented Corbin Gurkin. In 2021, she shot our Brock Collection for Over The Moon celebration dinner, and last year, she shot one of our holiday campaigns with Marina Larroudé. Safe to say we're big fans. She's beyond professional and so kind; and we can attest that she will chase that sunlight for you anywhere in the world.
View this post on Instagram
Elizabeth Austin's style of photography is "free-flowing with a mixture of editorial and documentary. My images are soft, romantic, and unique to each couple's love," she says on her website. Based in Atlanta, she's available to travel for her work too. Aside from being an amazing wedding photographer, Elizabeth is also the co-founder of an interactive pop-up celebrating Black hair culture called The Black Hair Experience. Stay tuned for more of her work on Over The Moon in the near future.
View this post on Instagram
An expert in creating photos "that look like how your day felt," Chicago-based Emilia Jane has lensed weddings from Lake Michigan to Lake Como. She draws on her years of experience and background in visual arts to capture moments that are evocative and personally meaningful to her clients. She also offers aesthetic consulting and conceptualization throughout the planning process. We're still fawning over OTM Bride Meghan Hartt's nuptials in Chicago.
Originally French, Emilie White splits her time between London and Bordeaux and has captured moments with her camera worldwide and for more than just weddings—she shot the fitting for Ivy Getty's amazingly versatile bridal look in the U.K.. OTM Bride Amanda Kay Wilkins's wedding even landed a spot in Monique Lhuillier's hardbound book. White is hands down one of our favorite photographers. From capturing the right light to special candid moments, her work is true art. More from White is coming soon to OTM…
From Bali to New Zealand, Norway to Colombia, and everywhere in between, Oregon-based Erich McVey has lent his talents to weddings all over the world during his 14 years of experience as a professional photographer. You might recognize his work from his shots of Miles Teller's Hawaii nuptials or our recent feature of OTM Bride Dulcie Smith's wedding in Montana.
While photographing globally for more than a decade, Heather Waraksa has earned her place as one of the top wedding photographers working today. She was behind the lens at our Bridal Fashion Week event with Edie Parker and La Vie Style House and the energy leaps from her images. Based on the East Coast, her work takes her all around the world. The colors at OTM Bride Caitlin Shaughnessy's nuptials in Rhode Island were only made that much more elevated by Waraksa's eye and light editing.
Based in the U.K., Holly Clark is one of the most preferred photographers of leading international and U.S. wedding planners and prides herself on providing a unique, discreet, and personal service to her portfolio of clients. Available to lens a wedding anywhere, Clark shot one of our favorite weddings of all time, which was also one of our digital covers—OTM Bride Alessandra Cecconi's ceremony on a sandbank on Harbour Island.
In 2010, Jenny Fu took her passion professional and began her journey to becoming an amazing wedding photographer. Today, Fu is based in Manhattan with her other loves, her fashion photographer husband Roman and her French bulldog, Jefe. Her bubbly persona is infectious, and she'll elevate your wedding in the city or in any destination. OTM Bride Samantha Grecco's winter wedding at Tavern on the Green is one of our favorites.
With more than a decade of experience, Jillian Mitchell specializes in a fine art–approach to her wedding photography, and we absolutely adore her work on film. While she lives in San Pancho, Mexico, her main work bases are in New York and Los Angeles, but she's available to capture your memories anywhere. We especially love the moments she lensed from OTM Bride Ruby Redstone's Shelter Island nuptials.
View this post on Instagram
One of the photographers at Naomi Biden's wedding, John Dolan is as experienced as a photographer can get. He's all about the stolen moments that make beautiful pictures and his work has a fine art feel. Back in the mid-nineties, he even founded the "I'm Proud to Be a Wedding Photographer Club." Aside from history-making weddings at The White House, he's shot a number of well-known affairs, including the weddings of AnnaSophia Robb, Gwyneth Paltrow, Ben Stiller, and a few notable OTM Brides like Megan Noetzel and Holly Siegel. If you do decide to book Dolan, rest assured, you'll be in good hands. And for more wedding imagery from him, be sure to check out his book The Perfect Imperfect: The Wedding Photographs of John Dolan, which impressively covers 342 Saturdays all over the world.
View this post on Instagram
Based in Santa Barbara but available for destination I dos, Jose Villa is a photographer we will keep recommending over and over again. He has a fine art approach to capturing those pure moments that only occur at weddings. Villa has been featured many times on OTM and has been chosen by famous brides like Ivy Getty, Paris Hilton, Priyanka Chopra, and Hailey Bieber to capture their wedding festivities.
While Judith Rae lives in Palm Beach, her work often takes her to NYC and all over the globe. With every weddings, she combines her love of fine art photography with storytelling to capture every beautiful moment for her clients. OTM Bride Bianca Gasparro's nuptials on the 107th floor of the One World Observatory is a particular standout for us.
Austin-based photographer, Kristen Kilpatrick pays close attention to the light in her images, and it pays off every time—never too saturated or muted yet full of romance, we adore her editing style. She also mixes in film to give variety and texture to her portfolio. Whether you're thinking of saying, "I do," in Texas or Taormina, Kilpatrick can be there in flash (pun intended). One of our favorite weddings from last year was OTM Bride Kennedy Andrews's multi-day celebration in Lake Como—the colors were sensational and only elevated through Kilpatrick's lens.
With a beginning in fashion photography, KT Merry creates timeless images with an editorial eye. Along with having her work frequently featured on OTM—most recently from Stephanie Hill's weddings in Miami and Mexico—Merry has also lensed famous brides like Kate Upton and Eunice Kennedy Shriver and shot bridal campaigns for the likes of Monique Lhuillier. Ready to book Merry for your own special day? You're in luck, she's available to capture images for destination weddings nearly anywhere in the world.
Based in New York but originally from Australia, destination photographer Kylee Yee's love of travel sparked her passion behind the lens. A new mama herself–Yee welcomed her first baby in December—she is also dedicated to giving back and donates a portion of her fee from every wedding to Operation Underground Railroad in her client's name. OTM Bride Emmaline Kuo Ranzman's Manhattan micro-wedding continues to be an inspiration for us, and we now carry her namesake accessories label.
We Love Lucy—and you will too! It's really no wonder she's one of the top wedding photographers, considering she holds a Masters in Fine Art Photography from Savannah College of Art & Design—that eye was well-educated! She's lensed some of our favorite brides: Anna Electra Mack Pardee, Kat Tanita, Harley Viera-Newton, Janie Pierrpont, and more. Trust Cuneo with your wedding if you are looking for glowy, romantic, candid, and joyful photographs and would love someone to capture you and your S.O. at your happiest.
Based in Mexico and California, Mariana Pierce is available for destination weddings, and we see such joy in her photos from San Miguel de Allende and other spots in her home country. She expertly has experience with weddings of all sizes, from micro-ceremonies to 900+ guests dancing all at once. How romantic is this Valentine's Day OTM wedding?
View this post on Instagram
Combining shooting traits from documentary and fine art photography, Matoli Keely captures authentic emotion in her images. The San Diego, California-based photographer, who also has a Masters degree in biotechnology, only takes on a limited number of weddings each year, so contact her soon, if you're interested—she also does destination events.
With roots in Africa, America, and Asia, Mili Ghosh uses the influences of these three continents to inspire her photography. Available to travel anywhere for destination weddings, one of our favorite weddings that we featured was Sanam Sidhu and Roopa Patel's nuptials in Marin, which honored Punjabi Sikh and Gujarati Hindu customs.
Based in New Orleans but available to shoot destination weddings, Mo Davis has said that she breathes easier with a camera in her hands—how romantic is that? Davis's work has repeatedly been featured on Vogue.com, and we can't get OTM Bride Dr. Keji Belgore's nuptials in Portugal out of our heads.
A longtime favorite of ours, Shannen Norman and Emily Blake are the mastermind photographers behind Los Angeles-based studio Norman & Blake. They have more than 20 years of combined experience and travel all over the globe to bring their clients vision to life. Most recently, they shot a few of our holiday campaigns, Sophia Bush's nuptials in Tulsa, Oklahoma, and OTM Bride Marla Moravec's stunning wedding in Mexico.
Based in Charleston, South Carolina, Olivia Rae James's photos capture the raw beauty in real moments. She's also responsible for lensing another of our favorite weddings—our very own Amanda Jones Vaughan's nuptials in Florida! Her photos just feel really authentic—and while she is willing to travel for jobs, her images also often seem to depict the essence of the Lowcountry, which we love.
After 14 years of photographing weddings, Sarah's work is always mesmerizing to look at. While the native Brit splits her time between Portland, Oregon,  and Europe, if you reserve her for your own destination wedding, have no doubt that she'll go the distance for you. Last year, she amazed us with OTM Bride Erin Smith's sunset ceremony on Aspen Mountain that had such a glow about it. Sarah also supports the organization Vow for Girls, which aims to end child marriage, and encourages her couples to add a donation item to their registries.
Comprised of duo Skylar Stetten and Devin Wilson, Stetten Wilson's wedding images are always so clean and crisp. While they're based in Southern California, this duo can travel anywhere for your event—Devin shot his first wedding in Costa Rica! And two of our favorite OTM Weddings that they shot were OTM Bride Kelly Vydra's spectacular Jackson Hole nuptials and Julianna Martel's summer wedding in Charleston. We also know first hand that this team is so sweet and such a joy to work with.
With more than 11 years of experience, Twah Dougherty's images are just like her personality—super energetic! With her background in fashion design, Doughtery always approaches her photography with design in mind. We're still admiring OTM Bride Teny Geragos's at-home nuptials Southern California. The photographer, who is based in New York and available for destination weddings, also describes herself as Type-A and wants brides to know that she's in their corner every step of the way.
View this post on Instagram
Originally from Washington, Valorie was called to the California life, where she's currently based—and she's a recent bride-to-be! With a decade of experience, she's passionate about her couples truly enjoying the day while she's capturing all the real, intimate moments that unfold. When we think of Val, we think of this spectacular wedding in Hawaii published in Vogue, Elle, and even Monique Lhuillier's hardbound book. Last year, she shot our holiday campaign with stylist, Cynthia Cook Smith, and soon to come on OTM, an Easter campaign featuring Zoë de Givenchy. It's safe to say we adore Val!
After stumbling into photography by accident at a young age, Vinuthna Garidipuri fell in love with the art of storytelling. Since then, she's lensed nuptials in Southern California and Hyderabad, India, and specializes in Southeast Asian events. The way she captured OTM Bride Pooja Vig's intimate backyard Indian wedding in California will forever be stamped in our minds.