Napa is usually high on any couple's destination wish list, especially during harvest season. From August through October, the weather is warm, the days are long, and as winemakers race to pick their grapes at the peak of ripeness, the crowds flock in. But for those wanting a more intimate look at California's most storied wine country, the off-season is decidedly more romantic. Think: brisk morning walks, sunny bike rides through the valley, and wine and cheese by a roaring outdoor fire. Here, we rounded up the ultimate romantic guide to Napa Valley during the winter. Take in the sublime scenery and have it all to yourself. 
Stay
Officially one of the world's best hotels, Meadowood is a legendary Napa Valley resort and spa nestled on a serene private estate in the heart of Saint Helena.  Part of the Relais & Châteaux family, Meadowood is surrounded by nature on a 250-acre wine country estate and offers 85 guest rooms, suites, and cottages. Aside from the three-star Michelin restaurant, hiking trails, golf, tennis, and idyllic spa, there's just something in the air there. The rooms are perfectly appointed in dreamy shades of white and beige and the smell of fires burning in the morning lend a particularly cozy charm—almost as if you were starring in your own Nancy Meyers film.
The new kid in town, Las Alcobas occupies a Victoria-style farmhouse constructed in 1907. The guest room and suites feature an elegant, minimalist design with views overlooking the historic Beringer Winery. The resort's signature restaurant, Acacia House, is run by Top Chef Master Chris Cosentino. Plus, it's an adults-only hotel, making it the perfect romantic retreat. 
Located directly in the heart of Yountville, Hotel Yountville feels like a quaint, boutique B&B with vintage, rustic charm. Originally built in 1998, the hotel offers 80 guest rooms, most with private fireplaces. Pro tip: Bring a bottle of wine from your tastings to the jacuzzi to unwind in the evening. 
Eat
After coming to California in 1977 to open the first Moët & Chandon restaurant, French Chef Philippe Jeanty developed his personal cooking style. Years later, he opened the doors of Bistro Jeanty, where he recreates the favorite foods from his childhood in France. The eponymous bistro in downtown St. Helena is French country cooking in its best (and most quaint!) form. Don't miss the French onion soup or beef bourguignon. 
Richard Reddington's Redd Wood veers closer to the side of the "new Napa" with its hip design, spot-on playlists, and osteria-inspired menu, which includes staples like wood fired pizzas and house-made fresh pastas with locally sourced ingredients. 
Even if you go during the off-season, there's no escaping the line at Gott's Roadside. A requirement for any visit to Napa, Gott's has a modern approach to roadside dining. Their menu is filled with California-inspired dishes and seasonal specials using local ingredients, including their famous California burger, Ahi tuna tacos, and hand-spun organic shakes. 
An integral part of the Napa Valley since 1881, Oakville Grocery is a beautiful little market with a delicious selection of prepared goods, sandwiches, gifts, and pastries. Conveniently located along the St. Helena highway, it makes it the perfect pitstop before setting up a picnic. 
New kid on the block The Charter Oak was created by the chefs from the Restaurant at Meadowood, which previously earned three Michelin stars. Located in a historic building, the open-hearth cooking is modern, hyper-seasonal, and exquisite. Highlights include hearth-roasted bitter greens picked from their garden, grilled chicken with preserved lemon, and little gem salads with smoked albacore and herb cream. The entire meal from start-to-finish is a unique dining experience. We recommend snagging a reservation in advance. 
Farmstead is a tried-and-true Napa favorite. The farm-to-table restaurant is part of Long Meadow Ranch, which encompasses over 2,000 acres of grapes, olives, fruits, vegetables and pasture. Perfect for breakfast, lunch, or dinner, Farmstead is situated in a Gothic Revival residence that houses a general store as well as a cafe with wooden tables, serving up Stumptown coffee and pastries. After lunch, head to a tasting experience at Long Meadow Ranch, which boasts an extensive winemaking program. Their Mayacamas Mountain Experience explores the mountain vineyards and wine caves at their Mayacamas Estate, nestled high above Napa Valley. Be. Sure to make an appointment beforehand.
You've never had a real English muffin until you've been to Model Bakery (even Oprah agrees.) For close to 90 years, Model Bakery has been a staple in the Napa Valley culinary scene, making the best artisanal breads and baked goods from organic stone ground flours. Don't miss their legendary breakfast sandwiches on their world-famous English Muffins and fan-favorite Morning Glory muffins. They are located in St. Helena (the original), the Oxbow Public Market, and in Yountville. Stock up here before your flight and you'll be the envy of the plane. 
Drink
Recently-opened Ashes & Diamonds is unlike most other wineries in the Napa Valley. The design (porthole windows, stark white facade, mid-century modern furnishing) is a nod to the Napa Valley of the 1960s. As for the wine, owner Kathy Khaledi brought in organic and biodynamic wine makers Steve Matthiasson and Diana Snowden Seysses. There, even the wine labels, created by Brian Roettinger, are chic. (The name may sound familiar as he's the one who designed the album cover of Jay-Z's Magna Carta Holy Grail.)
Upon driving down the dusty driveway of the family-owned Frog's Leap, visitors will come upon a large farmhouse bathed in light with a wide back porch overlooking their gardens and vineyard. Located in Rutherford, the winery features organically grown grapes and dry-farmed vineyards. Frog's Leap is also one of the first wineries to use solar power to run their entire operation, as well as compost and cover crops to organically enrich the soil. Their Signature Seated Tasting allows visitors to taste a flight of four current releases on their back porch along with a fresh plate of their cheese and homemade jam. Don't miss the Williams family's vintage Chevy parked on the property.
Inglenook is one of the two wineries owned by the Coppola family and boasts an extensive tour. The historic chateau and grounds are beautiful and the winery itself has a storied history. After purchasing part of the historic Inglenook estate in 1975, the Coppolas restored the property and began the process of renewing their 200 acres of grapevines with the help of Philippe Bascauales (who had spent the previous 20 years in Bordeaux at Château Margaux.) The vineyard's flagship wine, Rubicon, is fresh, aromatic, and lives up to the hype.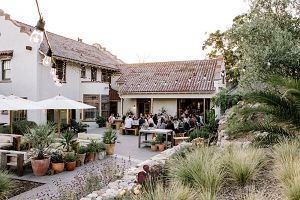 Technically located in Sonoma (which is only a short drive away), Scribe Winery was founded in 2007 and is housed on a property that pioneered pre-prohibition Sonoma Valley winemaking. Managed by fourth-generation California farmers, Scribe is a small production vineyard with a laid back vibe, and offers tastings in a historic hacienda with picnic tables, rope swings, and sweeping views of the valley. Members of their wine club drive further up to the hill to "the knoll" where they can set up private picnics and take in the view. As part of your tasting, you'll enjoy delicious small bites—fresh local sausages, lentils, bib lettuce with a tangy vinaigrette, and assorted olives and nuts. One of our favorite from their selection? Their Skin Fermented Chardonnay.
A single-vineyard winery, Nickel & Nickel sits on 42 acres of what was originally an 1880's farmstead. Retaining the site's original Queen Ann-style home, along with a collection of classic barns, the vineyard marries old charm with ultra-modern production methods—the entire property is solar powered and organic. Their Tour & Tasting is by appointment only and includes a 90-minute guided experience, where visitors walk through their historic farmstead, underground barrel cellar, state-of-the-art fermentation barn, learn about their soils, and end the day with a sit-down tasting of Cabernet, Merlot, Chardonnay, and Syrah with cheese pairings.
Turnbull Winery, neighbor to Nickel & Nickel, is a small, family-owned and operated winemaker with a mighty Cabernet Sauvignon. For those who want to get a cultural kick with their drink, their tasting gallery features a rotating roster of pieces from artists like Ansel Adams, Edward Weston, Herb Ritts, and more, all from the owner's private collection.