Never know how diamond carat sizes actually translate IRL? Can't remember how big one-carat looks? Our friends at Erstwhile Jewelry, a boutique jewelry store on Fifth Avenue that specializes in antique and vintage engagement rings, have given us a handy reference guide for diamond sizes from .5 to 2.5-carats, so it's easy to see how big a .5 enhancement is on your finger.
This picture guide features a round, old European-cut diamond in each setting. According to Erstwhile, the sizes of the carats in the photo are approximations, and the actual sizes may vary by a few points. This particular carat range is their most requested.
Keep in mind, the setting can play a big role in how the diamond appears. These classic prong settings give a consistent reference, while a cluster or halo setting can make a diamond look bigger than it is.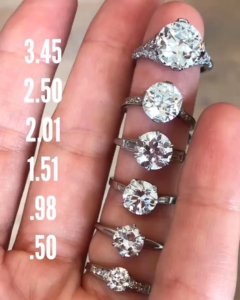 When considering diamond size, hand size is an important factor. Erstwhile co-founder Alisa Klusner says, "Women with smaller hands often feel they can't wear larger carat sizes, but once they actually try them on, they discover this isn't really true. Our model here is about a 4.5 ring size, and both the 1 carat and 2.5 carat look just as fitting. A larger finger or hand does look better with a larger carat diamond, but you can also fake it with a fuller setting featuring smaller diamonds in a cluster or other design."
---
While a photo reference can be helpful, trying rings on in person is fun and a must in order to figure out what really works best. Luckily, Erstwhile is having its first Los Angeles trunk show later this week! 
For the first time on the west coast, their entire namesake collection will be available to shop in person, as well as their selection of vintage engagement and cocktail rings. Bubbly will be served, flower crowns will be worn, and one lucky bride will leave with an antique garnet and diamond ring, as part of their exclusive trunk show giveaway. DM @erstwhilejewelry on Instagram, email [email protected], or call 212-390-1144 to make an appointment. Appointments are recommended, but not necessary.
June 13th -14th 
LOHO Bride
8282 Melrose Avenue
12:00 p.m. – 8:00 p.m.
---
This post is sponsored by Erstwhile Jewelry.