New Zealand born, London-based designer Emilia Wickstead is known for creating understated, elegant ready-to-wear, and her bridal collection consists of sleek wedding dresses for a sophisticated bride. She's famous for her prints though—which are always feminine and pretty, but never too sweet—and are all concepted in-house . . . often the results of scouting trips Wickstead takes to vintage fairs. There, she discovers inspiration in some of the most unexpected places: She once said a more successful print was a rust floral she found on a "very old, revoltingly dirty duvet cover."
Even before Wickstead was showing at London Fashion Week, Kate Middleton was an early adopter, wearing her dresses to royal engagements. Samantha Cameron followed suit and became a champion of the brand. And, soon after, Gwyneth Paltrow, Kate Bosworth, and Diane Kruger were all seen wearing her dresses on the red carpet.
13 years, and many fashion seasons and celebrity clients later, Wickstead is still married to Daniel Gargiulo—the man who once upon a time gave her that life-changing loan. Together they have two young kids and live in Holland Park. They first met at a nightclub 16 years ago. They actually started dancing together before they ever even exchanged words, and then four years later, he proposed in Paris at Hotel Plaza Athénée.
Right off the bat, they knew they wanted to get married in Tuscany. "That was always our dream," says Wickstead. And so, soon after the engagement, she started planning her wedding for July 1, 2010. "I was inspired by the film Sabrina—I wanted an Audrey Hepburn style dress and a big family garden party," she explains. She designed a form-fitting satin dress with thick ribbonlike straps for herself. A sheer embellished overlay with long-sleeves was worn during the ceremony, and that afterwards, the dress's stunning décolletage was revealed. Her bridesmaids also wore bespoke Emilia Wickstead in silhouettes that flattered each woman best.
The Catholic ceremony took place in the Medieval and Renaissance town called Montepulciano inside an isolated circular church surrounded by trees and hills.
Afterwards, guests relocated to Villa La Foce for a magical outdoor reception under the stars. "Champagne saucers were flowing, there were oysters, dancing by the pool house, and live jazz," says Wickstead.
Emilia's godfather, the groom, the best man, and the maid of honor all gave toasts—and  even the bride stood up and delivered an impromptu last minute speech herself.
The newlyweds first dance was to Sam Cooke's "Bring It On Home to Me." "Looking back, I loved absolutely everything about our wedding," says Emilia. "But if I could have changed one thing, we would have danced with our parents."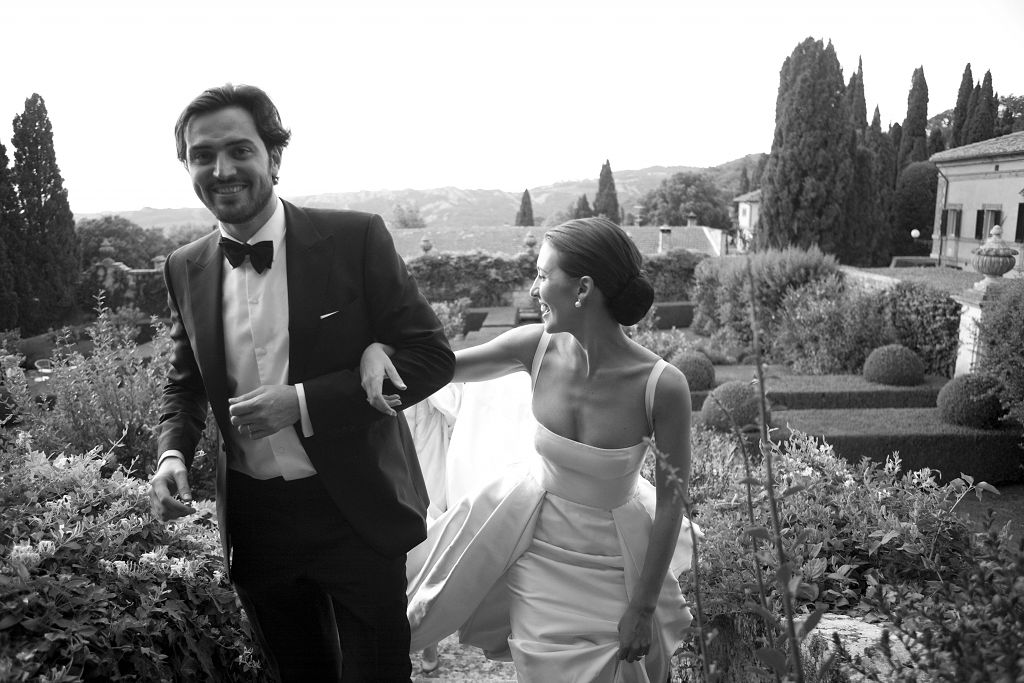 Despite that oversight, the dance party went all night . . . that is, until everyone jumped into the swimming pool at 5:00 a.m. And then, the day after the wedding, the happy couple drove Highway 5 from San Francisco to L.A. before flying to Bora Bora for a honeymoon that can only be described as pure bliss.