It's the start of 2019, which means wedding trend predictions have started to come in. Last week, the International Academy of Wedding and Event Planning, a.k.a. the definitive authority on all things wedding, has published their annual trend report, which clocks in at 187 pages and is chock-full of expert insights from industry professionals.
After combing through the material, some apparent themes for the year have become clear: Vibrant hues, including emerald greens, are on the rise–as is the use of the color black. An Art Deco aesthetic will shine throughout the year, while 2018's royal weddings will be arbiters of influence. Also at the top of the list, aside from a continuing focus on Instagram, couples will point their attention and resources towards guest comfort, unique experiences, and ecological concerns. Below, our selection of some of the report's most helpful and fascinating insights.
General
"The biggest trend I've seen lately is the Friday wedding. Couples care about the date more than the day of the week. It's about the number and if that falls on a Friday, then so be it."
–Mindy Weiss, Owner, Mindy Weiss Party Consultants
"Our couples would rather put money into their guests' comfort and experience rather than just the look of the wedding. They want the event to evoke an emotional response rather than just a visual one. They want their guests to feel taken care of pre-wedding, during the event, and even [afterwards]. This can be expressed through transportation, luxurious beauty and wellness treatments, personalized items that are practical, and menu choices."
–Jes Gordon of jesGORDON/properFUN
Stationery
"My top trend that I'm seeing in the world of wedding invitation design for 2019 are watercolor florals. You can do it as a beautiful border, or as a great bold liner."
–Ceci Johnson of Ceci New York
"We have been seeing an increase in invitations with an interesting shape. Couples are looking for that wow-factor by using origami folds in their invitations or envelopes."
–Reesha Almeida Coutinho, Founder and Creative Director, Prêt à Papier FZE
"Taking your invitations to a whole other level of three-dimensionality. Playing with paper and creating 3D flowers, handmade petal by petal, really brings your invitation to life in a gorgeous, tactile, way."
–Ceci Johnson, Founder and Creative Director, Ceci New York
Style and Décor
"Rumor has it that geometric archways are going to sneak up on us next year. Why stick with boring circular archways—do something interesting [instead]."
–Sandra Serrant, North American Academy of Wedding & Event Planning
"Art Deco. Tufted, jewel-toned furnishings mixed with black and white geometric patterns provide drama and a mix of masculine and feminine glam. Velvet sofas, fringe accessories, gold accents and tassels give a luxurious yet whimsical vibe to any space."
–Gina Holz, Principal, Gina Holz Designs, Inc.
"Inspired by this year's royal wedding, the interior design landscape will feel regal yet approachable . . . and things will feel handmade. Real flowers. Lots and lots of greenery and crisp white flowers. Design that is tailored, yet comfortable."
–Sandra Funk, Owner/ Principal Designer, House of Funk
"Fauna and foliage in prints, patterns, and papers will be big. Velvet is huge, especially in any shade of green, and is going to steal the show in terms of fabric for 2019. Neutrals (green being one of the biggest hits) are still as hot as they were in 2018. Let's be real, neutrals will carry over year after year because they're the perfect backdrop for any design or aesthetic."
–Sandra Funk, Owner/ Principal Designer, House of Funk
" . . . What we can expect to see is the return to deep colors like emerald and aubergine, as well as rising popularity for florals including dahlias and ranunculus. We can expect the continued rise of eco-friendly weddings, with couples also opting to include vegan menu options for their reception."
–Colin Cowie, event designer
Color
"We saw a lot of ethereal pastels last year, like blush pink and powder blue, but we think people will be taking a break from the muted, dusty, look in favor of more saturated, vibrant, colors."
–Joan Wyndrum, Co-Founder, Blooms By The Box
"In 2018 we saw matte black being used to create drama. Black sofas, and light fixtures, bathroom tiles, cabinetry and black exterior paint will gain even more momentum in 2019."
–Gina Holz, Principal, Gina Holz Designs, Inc.
Flowers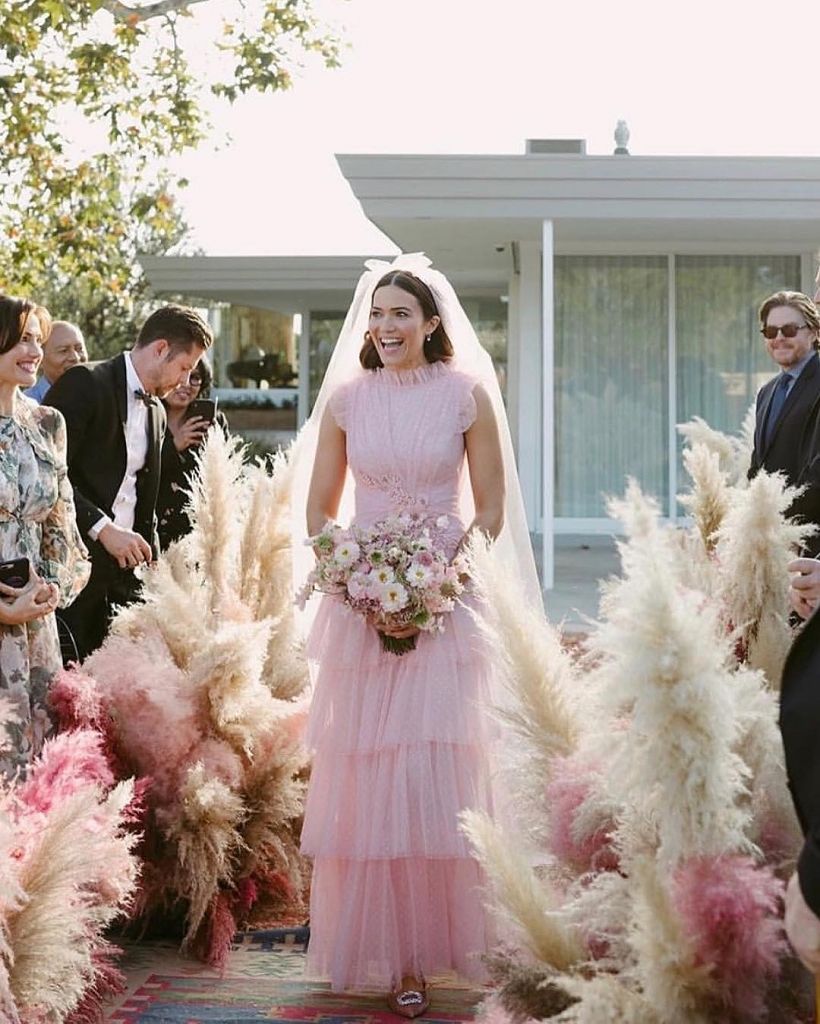 "Palm leaves are taking a break. The tropical aesthetic will be exemplified in the florals, for example, protea, anthuriums, and orchids."
–Amy Abbott, Owner and Operator, Amy Abbott Events
"Dried flowers are something that I think will feature more into weddings, used with fresh flowers and foliage or simply on their own."
–Lisa Gatenby, Owner/ Florist, French Flower Style
"Look out for more unusual shapes in wedding floral styling in 2019. Expect to see more pampas grass, tropical flowers, and foliage such as birds of paradise and monstera leaf, banksia, and anthuriums."
–Dee McMeeking, Floral Stylist, Wedding Stylist, Wedding Planner, Dee McMeeking Wedding Styling
Table Design
"Tabletop design is going back to classic romance. Couples are opting for low centerpieces instead of tall [options], and that lends itself to a more natural, romantic, look. The style is more of an unkept garden than a tight and formal wedding for 2019. Couples are also investing more in tabletop than before and renting unique dishes that are often mismatched and paired with cut crystal."
–Mindy Weiss, Owner, Mindy Weiss Party Consultants
"Patterned and textured linens are key features to creating an interesting table design. Florals continue to be a popular choice as well as metallic accents. Event designers aren't afraid to mix and match patterns and textures to create unique, one-of-a-kind 'wow' moments."
–Karen Gordon, VP Growth, Goodshuffle Pro
"You can't talk about table design without talking about the chairs! We're seeing couples start to understand more the importance of a good chair for their dinner, and suppliers are offering more stylish, bold, and unusual options for hire. Think fantastic bright yellow Tolix chairs against crisp black tablecloths or transparent chairs that contrast with beautiful exposed wooden tables."
–Holly Poulter, Creative Director, Revelry Events
Photography and Video
"More moon sessions (professional honeymoon pictures) as opposed to engagement shoots. More first looks, and more first looks that include parents."
–Keith Phillips, COO, Classic Photographers
"The overall look of the final edited photos is definitely trending more towards a darker style compared to the overexposed, blown-out, and softer look. The general trend is going for the real look, by including curves, marks, and imperfections."
–Andreas, Owner/Marketing Director, Hauke Wedding Films
"Drone coverage is getting more popular every year. Just make sure your videographer is an FAA licensed and insured UAS pilot to avoid some of the challenges inherent in aerial photography."
–Michael Busada, Owner, Mike B Photography
Photograph-Focused Décor
"Since everyone wants to take photos at weddings now, the colored lighting trend has gone away. Couples don't want pink or purple lighting and [for] all the photos to come out purple. Instead, no colored lighting at all is in. Just beautiful mood lighting to set the tone . . . ."
–Mindy Weiss, Owner, Mindy Weiss Party Consultants
"Photo booths are the norm, but unique, organic backdrops, are a new way to experiment with guest photography. Anything with a texture that captures the wedding theme can make for a good photo area."
–Sandra Santoro, Founder & Owner, Getting Married in Italy
"Sparkler exits are fading away in 2019, for a variety of reasons. Many venues prohibit the use of sparklers, and it's never a great idea to mix alcohol and fire!"
–Michael Busada, Owner, Mike B Photography
Destination Wedding Locations
"Montana is also becoming a popular trend as couples are falling in love with its beauty and the many amazing venues and views…."
–Amy Abbott, Owner and Operator, Amy Abbott Events
"Portugal is a hot spot for couples wanting their money to go further without sacrificing . . . the European experience. Mexico City continues to be a strong destination for large wedding parties on the west coast. Ireland is gaining in popularity as heritage is a key factor for couples seeking their roots. The Italian Dolomites . . . with scenic mountains, lakes, and year-round glorious activities and spas, is second after Tuscany."
–Renée Strauss of Wedaways
"I absolutely love working in South Africa, and I think that it will continue to become more and more popular as people realize that while it is more affordable than Italy or Morocco, it is just as glamorous. From the safaris to the resorts, you get the chance to create a well-rounded adventure for your guests that lets you enjoy everyone you truly care about on your special day."
–Colin Cowie, event designer