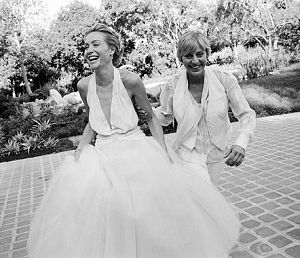 On August 16th, 2008, Ellen DeGeneres and Portia de Rossi tied the knot at their home in Los Angeles. Unlike a lot of celebrities who go to every extreme to ensure their wedding ceremony is super-secretive before, during, and afterwards, Ellen and Portia have always been quite open about their big day, sharing photos, details, and even a video with fans. In honor of the couple's tenth anniversary today, we look back at one of the most iconic Hollywood weddings in history.
De Rossi has admitted before that it was love at first sight when she first met the daytime talk show host through mutual friends, but even so, it took her some time before she was able to reveal her true feelings. "[I knew Ellen was the one] when I first laid eyes on her, but it took me three years to actually tell her how I felt about her because I was on Ally McBeal at the time and I was not living as an openly gay person," she told Oprah. "I was closeted and very, very afraid that if I talked about being gay, it would be the end of my career, so I wasn't about to date the most famous lesbian in the world." The two started dating in 2004 and in 2008, after California overturned its same sex ban, the couple became engaged. The day after the Supreme Court decision, Ellen announced on her show that she was getting married.
The plan was to initially have a big wedding—Ellen is no stranger to big celebrations, considering her star-studded 60th birthday party earlier this year—but when Portia revealed things "just got to be too big and stressful," they shifted gears and instead opted for an intimate ceremony at home, with only 19 friends and family in attendance.
For their big day, both brides wore custom Zac Posen designs. Portia chose a blush pink tulle gown with a tuxedo-inspired halter top, while Ellen wore cream airy pants paired with a vest. They both wore slippers that said "I Do," and exchanged platinum wedding rings designed by Neil Lane.
Celebrity wedding planner Mindy Weiss helped arrange the intimate gathering, which was full of candles and flowers arranged by Mark's Garden. Inspirational author Wayne Dyer officiated the short ceremony, which was performed on floor pillows in the couple's living room.
As for their wedding menu and cake, it's no surprise that the couple chose to have an all-vegan meal and vegan red velvet wedding cake from Sweet Lady Jane, since both Portia and Ellen are two of Hollywood's most famous vegans.
When it was time for their first dance, Ellen and Portia took to the dance floor to Stevie Wonder's "Ribbon in the Sky." Years later in an interview with People magazine, Ellen shared just how happy she was to have found Portia. "Portia and I constantly say to each other, 'We are so lucky.' Sometimes it's lying in bed at night before I go to sleep, and I just say thank you to whatever, whoever is out there," she added. "I've gotten to a place where I really am just settled. Really. I know that I'm not going anywhere. She's not going anywhere."
For a closer look at their wedding ceremony, watch Ellen and Portia's wedding video below.